Tuesday, July 17, 2007
lg coffee (light/sweet)
1 raisin bagel (plain)
4-5 lg mugs of black coffee
1 bottle of water (20 fl. oz.)
1 peanut butter/grape jelly/potato chips on white bread sandwich
1 sm-med ziploc bag of potato chips
1 (butterscotch/peanuts) granola bar (net wt. 1.2 oz.)
1 box of berry juice (6.75 fl. oz.)
1/2 pack of cigarettes
Letter to the Editor (Philadelphia Daily News, 7/18/07)
Painted steel beams aren't tourist-worthy art
The recent erection of the sculpture "The Iroquois" by Mark di Suvero on the Parkway demonstrates once again that Philly is brain-dead when it comes to understanding what is and isn't art. The only difference between I-beam sculptures like Suvero's and demolition rubble: His are painted.
The effect of sculptures like "The Iroquois" on tourism is best demonstrated by a visit to Sistine Chapel in Rome. A series of modern paintings are hung in the stairway corridors. In my many visits, the majority of visitors rush through the hallways to get to the main hall. There, the paintings and sculptures by the masters are presented for the world to see.
I doubt that even a Canadian will cross the border to see a jumble of painted I-beams titled "The Iroquois." Philly needs to stop shopping at the junkyards for art.
name withheld*
Mantua, N.J.
*name withheld by Automotive Acne blogspot not Editors at Philly Daily News
**appropriated photo essay: advertisements stripped of context (a suspension of viewpoint)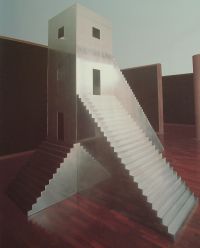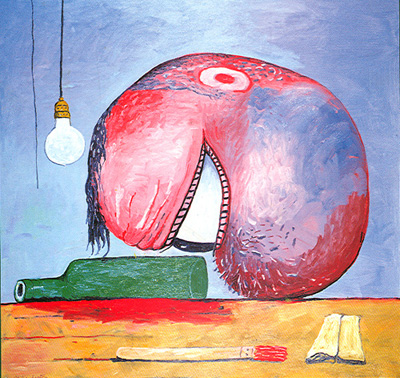 Artists represented:
Felix Gonzalez-Torres, Ryszard Wasko, Priscilla Monge, Roseanne Backstedt, Not Vital, Ed Moses, Robert Weingarten, Philip Guston, Meg White by Juergen Teller, Ouattara Watts, Sherrie Levine, David Hammons, Zhange Enli, Christopher Wool
**ads from an international art magazine (circa March, 2006)
(other) very amusing:
Are you high?
Posted by: G at July 17, 2007 8:19 PM
Is it not up on the website too? I just looked for it and can't find it.
Posted by: Paddy at July 17, 2007 8:53 PM
No, not online yet. But it may show up soon. I'll be sure to mention it when/if.
And no, I'm not high. One healthy grocery trip and everyone suspects mind-altering drugs.
Posted by: Kriston at July 17, 2007 9:08 PM
read original post and all comments